Great looking rigs cjw.

Sent from my SM-G955W using Tapatalk


---
This is why I love the 870 platform. I can go from 14" HD gun to a 30" goose gunwith a couple quick part swap outs.
Sent from my SM-G955W using Tapatalk
---
Nice shotguns, what flashlights do you use?
---
Experienced Shotgunner
Posts: 51
Joined: Sat Nov 21, 2015 1:32 pm
Preacher_Ed wrote:

Traded my Mossberg 930 for this (I think I got the better end of the deal). I got bored and went and got some Johnson Paste wax and worked on the stock and fore end and now it looks even better.
The wood looks amazing!
---
New Shotgunner
Posts: 6
Joined: Sun May 27, 2018 10:56 pm
My first thought was to change the stock and foreend, but I got some Johnson Wax and polished the wood and now I think it looks great, so the wood is a keeper.
---
Enthusiast Shotgunner
Posts: 47
Joined: Wed Jun 17, 2015 2:20 pm
This is my Rem 870 Tactical. It came with the Rifle Sight Barrel and a +2 Remington mag extension. I'v always wanted to try the Mesa Tactical Recoil reducing Pistol grip Kit. I have to say that it really works great; it takes almost all the recoil out of each shot. It is expensive, especially adding the Magpul CTR as I did, but well worth it (In my opinion).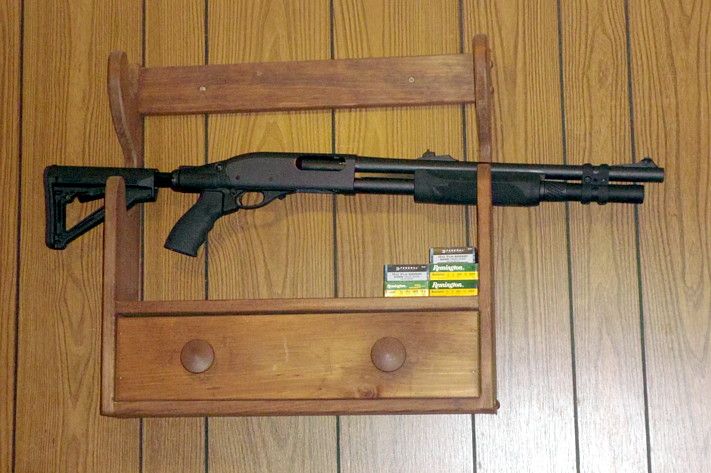 ---
---
Experienced Shotgunner
Posts: 73
Joined: Tue Oct 29, 2013 7:29 pm
---
My 870 Express Magpul Edition
XS Sights
Factory Cerakote Job
Magpul Firniture
Volquartsen machined extractor
Scattergun technologies +1 extension
Wolff XP spring
MESA 4rd side saddle
Heavier carrier dog spring

Just trying to decide what safety I want to install and looking for more "heavy duty" parts to install
Attachments

06FFD6A2-B5A7-442F-B083-301672BE3AA3.jpeg (1.32 MiB) Viewed 2181 times

AF9BC6F5-9690-43B0-B35E-AA8B5B4719B9.jpeg (1.12 MiB) Viewed 2181 times
---
Newbie
Posts: 4
Joined: Tue Nov 06, 2018 8:41 pm
Hunting set up 28inch barrel full choke and front bead change. Cycling much better after a thorough strip, clean, polish and trigger work.

Sent from my iPhone using Tapatalk
---
Who is online
Users browsing this forum: No registered users and 3 guests